Products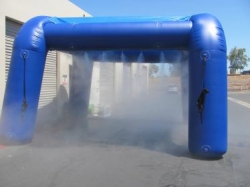 Misting Systems
Misting systems are most commonly defined as a series of specially mist nozzles placed in a line around the perimeter of an area. When connected to a high pressure misting system pump, water is forced through the specialty nozzles and quickly atomized to droplets as small as 5 millionths of a meter (5 microns).
Misting systems will produce billions of tiny droplets every second. If these droplets are introduced into an outdoor area, they quickly evaporate. This process of evaporation requires energy to be completed. The energy is taken from the air in the form of heat. The result is a temperature reduction of up to 35 degrees Fahrenheit, depending on the ambient temperature and the relative humidity of the air. This method of temperature reduction is the most common use for all misting systems.
When misting systems are placed inside an enclosed area (such as a greenhouse), the billions of droplets that are produced will initially provide cooling as the droplets evaporate. However, if the air exchange is limited, the misting system will continue to increase the humidity level within the structure. Humidity levels as high as 90+% are possible. This unique characteristic of all misting systems makes them ideal for both outdoor cooling and humidification.
Restaurant and Patio Misting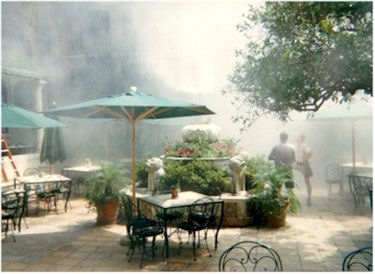 Chill Zone's high-pressure, stainless steel restaurant, bar and patio misting system makes outdoor dining areas more comfortable for customers, guests, and home-owners alike. This system maximizes seating space for restaurants and their patrons by allowing outdoor seating for afternoon lunches and evening dinners during even the hottest of weather. This misting system will also provide maximum cooling of your backyard, allowing you to enjoy your patios, gazebos and other outdoor living spaces, regardless of the temperature outside.
Sporting Event and Music Festival Cooling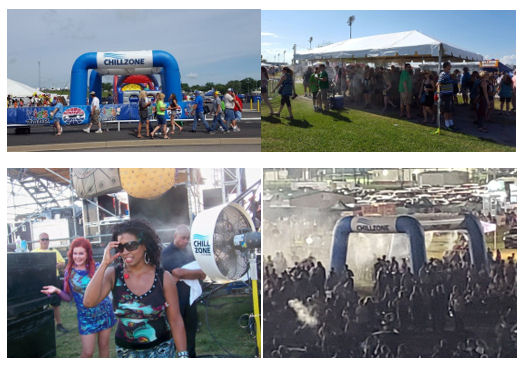 Chill Zone uses its unique misting fans and systems at sporting events including PGA Tour Events, NASCAR, NCAA Football, NFL, and music festivals including New Orleans Jazz & Heritage festival, and Pepsi Gulf Coast Jam. Our systems have been used at BamaJam, Jacksonville Jazz Festival, Bonaroo, HullabaLou, NCAA Baseball tournaments and MLB kids camps, US Soccer and national conventions. We can customize any size event to keep competitors and spectators cool for the duration of the event.
CDMP1840GRY Misting Fan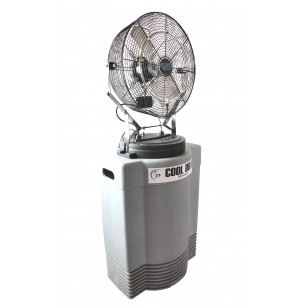 Mid Pressure (180 psi) 18" Fan with Cooler Case. Our #1 Best Selling Misting Fan. Designed for Fire Ground Rehab!
Built with all stainless steel components, this mid-pressure misting fan will last for many years. We take pride in the fact that EVERY fan system is built with pride by our technicians here in Texas! Each unit is thoroughly tested before it ships from our facility.
The CDMP1840GRY is perfect for any outdoor event, poolside and even keeping your pets cool! Engineered for more efficient cooling, the Cool Draft system uses a stainless steel mist ring that increases air flow from the fan and releases an ultra fine mist in the "sweet spot" of the fan's air stream. Our mid-pressure fog creates maximum flash evaporation, which literally sucks heat out of the air as the mist absorbs the energy it needs to evaporate. The result is an instant lowering of air temperature—and a proven effective way to combat heat stress.
The CDMP1840GRY produces a cool fog, not a heavy wet mist! Don't be fooled by price or similar looks. When compared to the others, Cool Draft out performs in every way. With pumps running at about 40 psi, the other fans produce a very wet mist. (Much like a Windex bottle being sprayed) Only Cool Draft uses 180 psi pumps combined with all stainless steel parts and fasteners.
HP Misting Fan
Misting Fan-24" portable high-pressure misting system with OSHA guards, 3-speed motor with pull chain switch and oscillator, mist pump, base assembly with vertical pole mount. System is expandable to include multiple fans running off of 1 high pressure pump.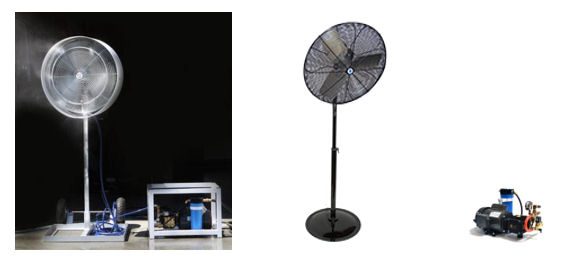 Features:
Heavy-duty .75 GPM industrial CAT™ mist pump powered by 3/4 HP motor yields 1000 PSI output.
Standard garden hose fitting for water supply between 15-75 PSI.
Automatic low-pressure shutoff.
Fan with totally enclosed, ball bearing, permanently lubricated, permanent split capacitor motor is UL 507 rated and includes powder-coated steel guard and mist ring with six .008 nozzles.
---
Dragon Heated Benches have been successfully utilized throughout the NFL to provide the ultimate in sideling heathing.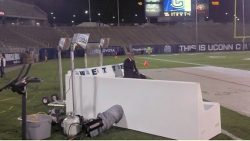 Then benefits of the new bench system are as follows:
More Comfortable --- These benches are designed for ultimate comfort for the players in harsh winter weather.
Heated Foot Deck - Holes in the deck, which slide out from the bench, provide an upward blast of heat, keeping the players feet warm in all winter conditions.
The benches consist of durable and rugged fiberglass that warms up quickly to immediately provide a comfort zone for the players.
Heated deck has beveled edges to prevent tripping. skid-resistant surface to prevent slipping.
Heat source is a clean burning natural gas or propane.
Benches will sit up to six to eight players depending on the size of the players.
Portable and easy to move allows quick storage in off-season.
The benefits of the hot helmet heaters are as follows:
Provide a constant flow of warm air to the in side of each helmet, warn enough to keep pads soft without damaging the helmet.
Reduce moisture buildup inside the helmets.
Multi-station units, one position per seated player.
Are available with or without a bench can be retrofitted to your bench.
Are insulated for maximum efficiency.
Schwank Heating Units
With smaller, sleeker profiles, electricSchwank heating systems offer a streamline, yet effective heating solution for any indoor or outdoor space. They are available in ranges of sizes, wattages and voltages that can provide appropriate warmth to any indoor or outdoor area, from a small room to an expansive oper-air commercial space.


---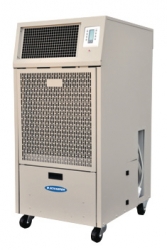 Evaporative Cooling Systems
An evaporative cooler is a device that cools air through the evaporation of water. Evaporative cooling differs from typical air conditioning systems which use vapor-compression or absorption refrigeration cycles.
Evaporative cooling works by employing water's large enthalpy of vaporization. The temperature of dry air can be dropped significantly through the phase transition of liquid water to water vapor (evaporation), which can cool air using much less energy than refrigeration. In extremely dry climates, evaporative cooling of air has the added benefit of conditioning the air with more moisture for the comfort of building occupants.
The cooling potential for evaporative cooling is dependent on the wet bulb depression, the difference between dry-bulb temperature and wet-bulb temperature. In arid climates, evaporative cooling can reduce energy consumption and total equipment for conditioning as an alternative to compressor-based cooling. In climates not considered arid, indirect evaporative cooling can still take advantage of the evaporative cooling process without increasing humidity. Passive evaporative cooling strategies offer the same benefits of mechanical evaporative cooling systems without the complexity of equipment and ductwork.
More Evaporative Cooling Systems
---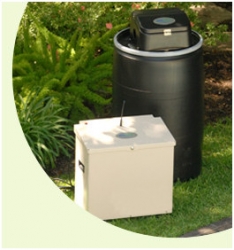 Insect Control Systems
Unlike portable mosquito control systems which attract mosquitoes into your yard, our system kills all mosquitoes in the backyard through a series of pyrethrum-insecticide misting nozzles. Our automated and permanent Mosquito System, allows you and your family to enjoy a mosquito-free yard all year round.
Whether you call them fly control systems, fly spray systems, mosquito misting systems, or automatic insect control systems, Mosquito Misting Systems are eliminating mosquitoes one backyard at a time. Our drum-based misting systems and tankless mosquito misters are made in the USA and manufactured from the highest quality parts and materials. We offer unparalleled quality, an industry best-in-class warranty and peace of mind to the homeowners who have purchased our quality mosquito misting systems.
Tags: Misting Systems, Heating Systems, Evaporative Cooling, Insect Control