Restaurant and Patio Misting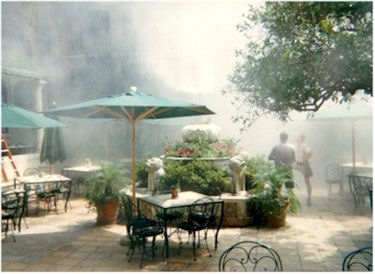 Chill Zone's high-pressure, stainless steel restaurant, bar and patio misting system makes outdoor dining areas more comfortable for customers, guests, and home-owners alike. This system maximizes seating space for restaurants and their patrons by allowing outdoor seating for afternoon lunches and evening dinners during even the hottest of weather. This misting system will also provide maximum cooling of your backyard, allowing you to enjoy your patios, gazebos and other outdoor living spaces, regardless of the temperature outside.
Sporting Event and Music Festival Cooling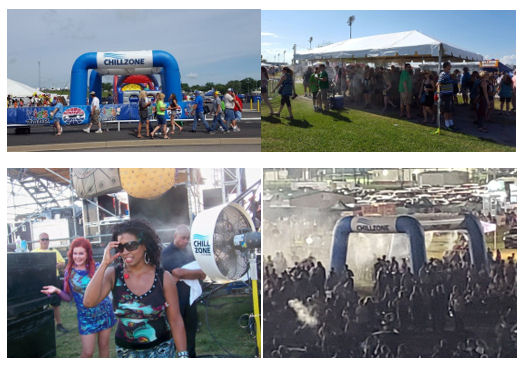 Chill Zone uses its unique misting fans and systems at sporting events including PGA Tour Events, NASCAR, NCAA Football, NFL, and music festivals including New Orleans Jazz & Heritage festival, and Pepsi Gulf Coast Jam. Our systems have been used at BamaJam, Jacksonville Jazz Festival, Bonaroo, HullabaLou, NCAA Baseball tournaments and MLB kids camps, US Soccer and national conventions. We can customize any size event to keep competitors and spectators cool for the duration of the event.
CDMP1840GRY Misting Fan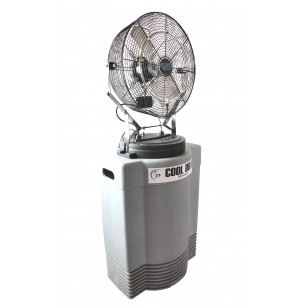 Mid Pressure (180 psi) 18" Fan with Cooler Case. Our #1 Best Selling Misting Fan. Designed for Fire Ground Rehab!
Built with all stainless steel components, this mid-pressure misting fan will last for many years. We take pride in the fact that EVERY fan system is built with pride by our technicians here in Texas! Each unit is thoroughly tested before it ships from our facility.
The CDMP1840GRY is perfect for any outdoor event, poolside and even keeping your pets cool! Engineered for more efficient cooling, the Cool Draft system uses a stainless steel mist ring that increases air flow from the fan and releases an ultra fine mist in the "sweet spot" of the fan's air stream. Our mid-pressure fog creates maximum flash evaporation, which literally sucks heat out of the air as the mist absorbs the energy it needs to evaporate. The result is an instant lowering of air temperature—and a proven effective way to combat heat stress.
The CDMP1840GRY produces a cool fog, not a heavy wet mist! Don't be fooled by price or similar looks. When compared to the others, Cool Draft out performs in every way. With pumps running at about 40 psi, the other fans produce a very wet mist. (Much like a Windex bottle being sprayed) Only Cool Draft uses 180 psi pumps combined with all stainless steel parts and fasteners.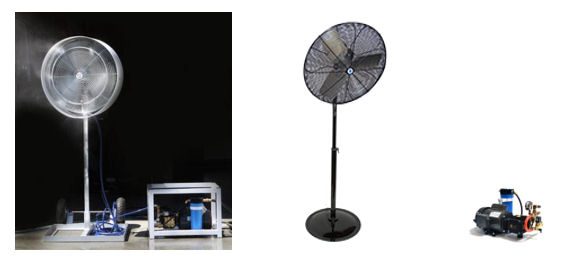 HP Misting Fan
Misting Fan-24" portable high-pressure misting system with OSHA guards, 3-speed motor with pull chain switch and oscillator, mist pump, base assembly with vertical pole mount. System is expandable to include multiple fans running off of 1 high pressure pump.
Features:
Heavy-duty .75 GPM industrial CAT™ mist pump powered by 3/4 HP motor yields 1000 PSI output.
Standard garden hose fitting for water supply between 15-75 PSI.
Automatic low-pressure shutoff.
Fan with totally enclosed, ball bearing, permanently lubricated, permanent split capacitor motor is UL 507 rated and includes powder-coated steel guard and mist ring with six .008 nozzles.
Inflatable Misters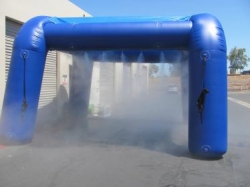 Inflatable Misting - Custom Sizes and Colors - High-Pressure Inflatable Misters From Chill Zone
Inflatable Misters Misting Systems that are incorporated inside of a Misting Inflatable's are a fun, easy and inexpensive way to provide outdoor cooling at events, concert and summer parties. Chill Zone sells a large variety of misting inflatable. Use your imagination to design an inflatable and Chill Zone will make an effective outdoor cooling unit that can be used at any event. Misting Inflatable can come with either High-Pressure or Mid-Pressure Misting Systems depending your needs and requirements.
---
Misting Tents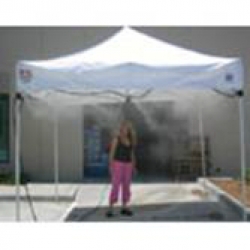 Chill Zone sells designs and builds a variety of Misting Tents including High-Pressure and Mid-Pressure (Premium and Standard) Misting Tents.
Our standard Misting Tent Models are 10' x 10 and come in a variety of colors. Chill Zone also sells High-Pressure Misting Inflatables, Misting Domes and Mid-Pressure Misting Inflatables. An Inflatable Misting Systems' design is only restricted by your imagination. The pricing for Misting Inflatables or Custom-Designed Misting Tents are dependent on design and structure.
Chill Zone offers the highest quality with these Misting Tents and Misting Inflatables. We are the only company that builds its systems in-house and tests them extensively before shipping the Misting Tents and Misting Inflatables to you, the customer. Our Misting Tents and Inflatables always come as a complete package, ready to use, unlike some companies who simply send you the Tent and Misting System and have you put it together and never test it for problems.
Own your own tent? Want to make it into a Misting Tent? Chill Zone also sells the Misting Components that will turn a tent you already own into a Misting Tent. Please call for pricing.
---
Versa Filler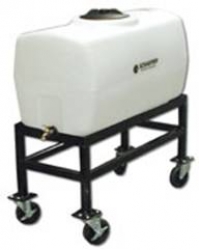 Need water in a remote location or misting on the sideline of a high school soccer game? This easy to move portable Fifty Gallon Water Reservoir is the solution. Simply roll out to the location and connect your misting system to the water supply. For most high-pressure and mid-pressure misting applications you will need a sump pump to increase psi level to the pump.
This Fifty Gallon Water Reservoir has an easy garden hook-up for either the Pro-Kool or WayCool models.
Portable Compact and Durable
Easy to Read Water Levels
One Piece Roto-Molded Polyethylene Tank
8" Lid Opening goes Easy Filling
5" Hard Rubber Casters
Gravity Flow
Hose Bib Connection
Optional sump pump for higher psi water flow is an additional $129.00 .
Easy garden hose hook-up to either the Pro-Kool or WayCool models.