Evolution Blue Base Fan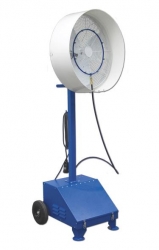 Evolution Blue Base Fan-24" portable high-pressure misting system with OSHA guards, 3-speed motor with pull chain switch and oscillator, self-contained mist pump base assembly with wheels and vertical pole mount.
Features:
Heavy-duty .75 GPM industrial CAT™ mist pump powered by 3/4 HP motor yields 1000 PSI output.
Standard garden hose fitting for water supply between 15-75 PSI.
Automatic low-pressure shutoff.
Includes 25' outdoor-rated power cord with integrated GFCI.
Mist pump assembly is housed in a galvanized steel enclosure with a blue, textured powder-coat finish; two stainless steel latches enable easy access to the interior components via the hinged lid.
Fan with totally enclosed, ball bearing, permanently lubricated, permanent split capacitor motor is UL 507 rated and includes white powder-coated steel guard and blue mist ring with eight .008 nozzles.
Specifications:
Nozzle flow rate 0.022 GPM @ 1000 PSI
Fan CCFM 6277 (high) 4899 (medium) 4031 (low)
---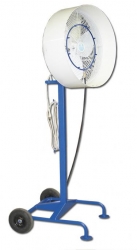 Evolution Blue Satellite
Evolution Blue Satellite- Satellites are used to expand the basic minimum system of one portable pump base unit with onboard misting fan to a system incorporating up to three misting fans that can operate simultaneously.
A satellite unit consists of a vertical pole mount with integrated handle on a base with two eight-inch all-terrain pneumatic wheels for ease of mobility on any surface, one fan and one mist ring, and the hardware to complete the assembly.
Features:
Unit ships in three cartons; (1) fan and mist ring, (1) base with wheels; and (1) vertical pole mount.
Specs:
FAN with SHROUD 24" 30"
A (height and width) 263/4" 323/4"
B (depth front to back) 20" 20"
Shroud alone is 9" wide.
FAN MOTOR 24" 30"
Voltage (VAC) 115 115
Frequency (Hz) 60 60
Amps 2.6 2.6
HP 1/4 1/4
Speeds 3 3
MIST RING 24" 30"
Nozzles 8 10
Plugs provided 2 2
Nozzle flow rate 0.022 GPM @ 1000 PSI
---
Inflatable Misters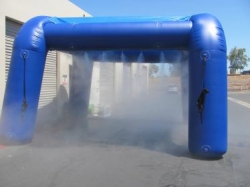 Inflatable Misting - Custom Sizes and Colors - High-Pressure Inflatable Misters From Chill Zone
Inflatable Misters Misting Systems that are incorporated inside of a Misting Inflatable's are a fun, easy and inexpensive way to provide outdoor cooling at events, concert and summer parties. Chill Zone sells a large variety of misting inflatable. Use your imagination to design an inflatable and Chill Zone will make an effective outdoor cooling unit that can be used at any event. Misting Inflatable can come with either High-Pressure or Mid-Pressure Misting Systems depending your needs and requirements.
---
Misting Tents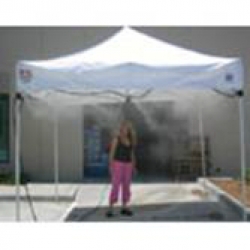 Chill Zone sells designs and builds a variety of Misting Tents including High-Pressure and Mid-Pressure (Premium and Standard) Misting Tents.
Our standard Misting Tent Models are 10' x 10 and come in a variety of colors. Chill Zone also sells High-Pressure Misting Inflatables, Misting Domes and Mid-Pressure Misting Inflatables. An Inflatable Misting Systems' design is only restricted by your imagination. The pricing for Misting Inflatables or Custom-Designed Misting Tents are dependent on design and structure.
Chill Zone offers the highest quality with these Misting Tents and Misting Inflatables. We are the only company that builds its systems in-house and tests them extensively before shipping the Misting Tents and Misting Inflatables to you, the customer. Our Misting Tents and Inflatables always come as a complete package, ready to use, unlike some companies who simply send you the Tent and Misting System and have you put it together and never test it for problems.
Own your own tent? Want to make it into a Misting Tent? Chill Zone also sells the Misting Components that will turn a tent you already own into a Misting Tent. Please call for pricing.
---
Versa Filler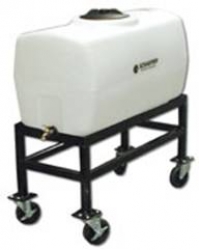 Need water in a remote location or misting on the sideline of a high school soccer game? This easy to move portable Fifty Gallon Water Reservoir is the solution. Simply roll out to the location and connect your misting system to the water supply. For most high-pressure and mid-pressure misting applications you will need a sump pump to increase psi level to the pump.
This Fifty Gallon Water Reservoir has an easy garden hook-up for either the Pro-Kool or WayCool models.
Portable Compact and Durable
Easy to Read Water Levels
One Piece Roto-Molded Polyethylene Tank
8" Lid Opening goes Easy Filling
5" Hard Rubber Casters
Gravity Flow
Hose Bib Connection
Optional sump pump for higher psi water flow is an additional $129.00 .
Easy garden hose hook-up to either the Pro-Kool or WayCool models.
---
Versa Fog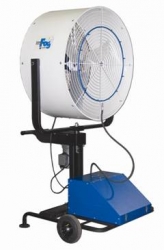 Versa Fog- High-Presure Misting Fan is specifically designed for misting large areas, its reach of air movement is 75 feet ways and it mists an area up to 1,750 square feet.
These heavy-duty High-Pressure Misting Fans have been used for industrial plant misting, storage unitmisting, outdoor cooling misting, patio misting, beach event misting, concert msiting, poolside misting, animal misting, fair and festival misting.
If you have any questions please call Big Fogg Misting Systems at 888-853-1728.
---
VersaMist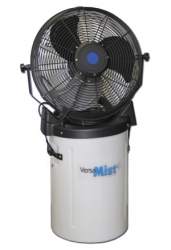 18" portable, three-speed, self-contained misting fan designed for commercial and industrial use.
Features
Mist pump rated for one gallon per minute output; housed in a heavy-duty enclosure with power cutoff tip switch.
10 gallon water reservoir tank.
Includes 25' outdoor-rated power cord with integrated GFCI.
Fan assembly is UL 507 rated and includes white powder-coated steel guard mounted on a yoke attached to the pump enclosure, and mist hub with four .012 nozzles. One extra nozzle and two plugs also included.

---